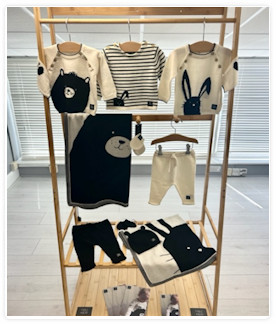 Our journey started as an idea to create environmentally conscious, effortlessly beautiful knitwear in a contemporary unisex style, with fun, modern characters that just make you smile.
Whether you are buying a babywear piece for your own family, or as a gift, you will be pleased to know that there has been thoughtful attention to detail at every stage. Starting with the initial design, through to the hand embroidered finishes, on to how you will finally receive each piece in your hand. Our Fable & Bear founder, Nel, has over 15 years design experience in the childrenswear and knitwear industry. She has taken her design skills and knowledge to create considered, contemporary and luxury clothing, for you to enjoy.
We are always looking at ways to continually improve our sustainability and for our clothing to have longevity. See the ways we are being environmentally conscious at Fable & Bear below.